Business strategy
|

From the president to investors

We formulated three major strategies in Fiscal 2005 for sustainable long-term growth: a "basic strategy," "competitive strategy," and "financial strategy." We will continue to pursue growth in the current fiscal year in line with these strategies.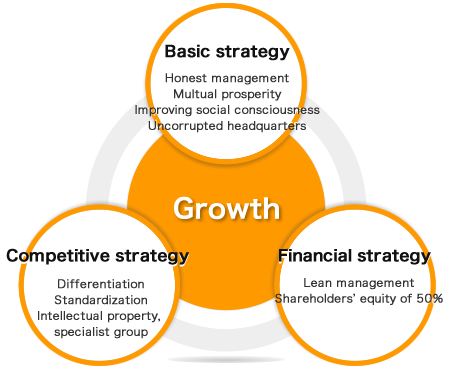 Basic strategy
1. Honest management
We will work to achieve corporate management without lying and cheating.
Customers

We will work to maintain our traditional sales stance of straightforward pricing. The prices of all products are displayed clearly so all customers get the same fair price.

Shareholders and employees

We observe all laws and regulations, and work to ensure timely and appropriate disclosure.
2. Mutual prosperity
PC DEPOT Corporation works to ensure co-prosperity with everyone.
Customers

We are working on the provision of and the assistance for a smart life, aiming to help our local customers to enrich their lives through the use of Internet devices and IoT devices.

Shareholders

We aim to grow as a socially conscious company.

Employees

We work to ensure long-term employment and long-term growth.

Vendors

We work to achieve effective supply chain management (SCM) operations and information disclosure.
3. Improving social consciousness
We are working to improve the safety/security of PCs, Internet connections and data; and we aim to be viewed by local communities as an essential store for PC sales and technical service.
4. Uncorrupted headquarters
We ban entertainment accounts, and are moving forward with information disclosure at our headquarters.
Competitive strategy
1. Differentiation strategy
We aim to differentiate ourselves in the eyes of customers in terms of "necessity" and "scarcity."
Format differentiation

We provide "one-stop IT solutions" at stores that are more accessible than Akihabara, and more reliable and helpful than volume electronics retailers.
We provide a broad line-up of products and services to meet a wide range of needs from those of beginners to advanced PC users.

Location differentiation

Through a strategy of opening large stores near existing volume electronics retailers, we aim to provide suburban shopping convenience and alternative services to those provided by volume electronics retailers.

Sales model differentiation

Our sales model focuses on the viewpoint of customers: we do not use a "points system" and we clearly display the prices of all products in a straightforward manner.
2. Standardization strategy
We aim to standardize for development, easy operation, and stable management purposes.
Development strengths

We develop products and services for customers including "PC Clinic," "Premium Service," and "OZZIO."
We will continue to expand our product menu by developing products that customers need.

Easy operation

We manage products, as well as developed goods and services, through easy operation.

Stable management

We are working to stabilize store management through centralized control by headquarters.
3. Intellectual property, specialist group
To resolve all our customers' troubles as well as to provide and develop unique solution services, we endeavor to protect our intellectual property and enhance our organizational capacity as a specialist group.
Financial strategy
1. Lean management
We are working to achieve lean management by avoiding ownership of assets such as land, inventory, and investment securities. We do not own large warehouses because we use 90% of the floor area of buildings for sales space.
2. Shareholders' equity of 50%
We aim for group shareholders' equity of 50%.