President's message
|

From the president to investors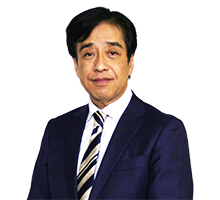 Summary of Business Activities for the Six Months Ended September 30, 2016
I would like to take this opportunity to extend our heartfelt thanks for your invaluable support.
Please find below a summary of the PC DEPOT Group's business results for the six months ended September 30, 2016.
The Japanese economy continued to recover slowly during the second quarter of the term ending March 2017, as a result of certain economic measures led by the government. However, consumer spending still remained uncertain and posted its lowest growth.
Against this backdrop, we in the PC DEPOT Group stepped up sales of Internet devices such as PCs, smartphones and tablets and actively developed related services, continuing with our aim to become a "smart life partner" for customers, providing both products and services in a single outlet. We also provided comprehensive services for communication lines, devices and support, through the provision of support for Windows 10 of which upgrade was offered for free until the end of July, and the launch of our original new brand "JUST PRICE FON" to offer support services bundled with the product referred to as a "low-priced smartphone" that combines a smartphone with MVNO.
However, following the occurrence of an incident regarding our premium services (hereinafter, the "incident") in mid-August, which we viewed as a serious matter, we made efforts to establish a framework for quality improvement. We prioritized the support for existing members by dispatching direct mail to approximately 400,000 existing members before the end of October and verifying their status of use and support received whenever we had a chance to interact with them, such as when they visit or shop at our stores, or call our call center to seek our support. Furthermore, we deployed quality control staff to our stores and the head office apart from sales staff, in order to improve our service quality and to provide explanations. Consequently, the number of sales staff decreased temporarily. With regard to sales promotion, we voluntarily restrained sales promotion activities, including advertising through newspapers.
As a result, consolidated cumulative net sales for the second quarter of the current term were 23.847 billion yen (down 2.8% compared to the same period of the previous year), and operating income was 2.3 billion yen (up 37.0%). Ordinary profit was 2.357 billion yen (up 36.7%), and net income belonging to parent company shareholders was 1.569 billion yen (up 41.1%).
Forecast for the Six Months Ending March 31, 2017 and our Policies
We sincerely apologize to our loyal customers, shareholders and relevant parties for the great inconvenience and anxiety caused by the incident in August, for which we received much criticism through the Internet and media. We take the incident very seriously and will take appropriate measures going forward.
We offer a concierge-like support services to customers who are not very familiar with PCs, the Internet or smart devices. As a concierge, we need to give consideration and care to our customers. The incident made us realize that the consideration we give to our customers was insufficient when we expanded our business model in response to the recent increase in Internet usage and the speed of increase in service offerings and devices. We believe that we could have made greater effort to commit ourselves to the customers. Going forward, we endeavor to carry out the following measures.
We will establish a new quality control department by splitting the existing sales department and enhance the internal structure for quality control to improve the quality of our stores and services. We will shift the framework for service development going forward to one that incorporates the outside perspective, and change the structure by implementing a new personnel evaluation system with greater value placed on customer satisfaction so as to quickly respond to customers' needs. We will also establish a risk management framework with rigid governance by inviting external experts to participate. In addition, we will focus on basic store creation, thorough education to ensure high customer services, and compliance in order to create stores that are more trustworthy and considerate to customers.
We understand that it is not easy to regain credibility and satisfy customers' expectations. However, we have continued to provide services to our customers even after the incident, with the cooperation from many customers and relevant parties, and provided various support and services to solve the problems faced by our members. In addition, the external environment for PCs and smart devices is changing, with reports of an increasing number of older people who are beginning to view PCs as a hobby while the percentage of PC usage by young people is declining. It is expected that customers' needs for support and services will continue, in connection with the end of support for Windows VISTA next spring and other problems in using PCs and devices efficiently. We believe that our largest role is to satisfy these needs in various circumstances.
We will make further effort to concentrate on and enhance the quality of our services to the existing customers and members for the rest of the current term and next fiscal year. During the six months ended September 30, 2016, we narrowed the range of premium services we offer as well as certain products. As for store development, we postponed new store openings in the second half of the current term. We will also revitalize our existing stores, through the planned renovation of two stores.
In consideration of the impact of the incident and the economy mentioned above, we revised the consolidated earnings forecast for the fiscal year ending March 31, 2017 as follows: consolidated net sales of 45.5 billion yen (down 12.1% compared to the previous year), consolidated operating income of 2.95 billion yen (down 31.6%), consolidated ordinary profit of 3 billion yen (down 31.3%), and net income belonging to parent company shareholders of 1.99 billion yen (down 30.6%). We will make a concerted effort to regain credibility from our customers, shareholders and relevant parties and improve our earnings as quickly as possible.
Our Group's basic CSR policy defines our mission as using our stores to eliminate the disparities in the information society (bridging the so-called "digital divide") that arise as a result of differences in age, gender, income, education, place of residence, and other factors. In accordance with this policy, we have conducted our business with the aim of becoming solution stores for PCs, the Internet and smart devices that provide reassurance, convenience and kindness to local customers.
Reflecting upon our regret from the incident, we will return to the starting point and make efforts to contribute to the local customers as IT solution stores that provide the benefits of using smart devices and the Internet for a better life.
We look forward to your continued support as we make further progress.
December, 2016
Takahisa Nojima
President and Chief Executive Officer